I am writing this blog in the presence of Ashley Thoms, who is a retard.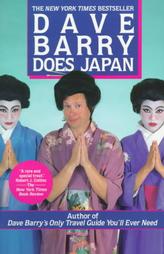 I read my first book of the summer on Tuesday night and Wednesday morning, Dave Barry Does Japan. Nick suggested it and let me borrow it, and it looked pretty funny from the description on back, so I read the whole thing in less than a day. It's short, but pretty funny, even if you aren't that interested in Japan or anything. Pretty much, he scammed his way into getting a free trip to Japan for 3 weeks with his family, and wrote a book about it. This guy is like my idol!
I'm not going to really review the book, but I will suggest it to anyone who wants something quick to read. The Amazon link is here. I will, however, post part of the book (don't sue me Dave Barry), that shows how Dave Barry explains business negotiations in Japan. It's pretty dead on, I'd say.