Almost forgot about it being exactly 1 year since I moved back to the United States.  Coincidentally, I spent the "anniversary" not in St. Louis but up in New York City.  Got to meet up with some friends who live in the area, and the last few days my brother came and met up with me.  It had been a long time, probably around 8 or 9 years since I was last up in NYC.  It smelled a lot less of urine than I had expected or remembered.  Also I didn't encounter any cracked out homeless guys screaming about women stealing your DNA like last time.
The weather up there was fairly similar to here in St. Louis, which included the break in the heat that luckily started about a week before my trip.  I'm glad I didn't have to deal with the intense summer heat in New York, considering how much walking I ended up doing and how pretty awful the underground train stations were even in decent weather.  Is there no ventilation there!?  The trip was primarily to hang out and do I guess touristy stuff – it was a good vacation.  Went to Times Square the first night and met up with Seth, who took me to an izakaya that was basically a warp hole to Japan.  It was pretty awesome to have yakitori and shochu and all kinds of menu items that I don't really get here in the midwest.  And while I'm on the topic of Japanese food, later during the trip my brother and I went to Ippudo, a Japanese ramen chain that I used to go to in Chiba since it was a straight shot down the street from my apartment.  The food was hands down perfect.  The big difference though was the price (fair since I was in NYC on vacation, so whatever) and the building itself.  I was pretty shocked – instead of a small noodle shop with counter seating and a few small tables, this place was a huge restaurant with I guess what you would call trendy lighting, furniture, and music.  It felt like a nightclub that just so happened to serve Japanese ramen.  There was a long wait just like the Chiba location had during rush times, but in NY they actually had hostesses and a waiting list.  I think I prefer the Japanese Ippudo's decor, but again it's not really a complaint since the ramen was awesome and I was still in America.  It was also  kind of strange feeling to have Caucasian American waiters yelling "IRASSHAIMASE" when a table was sat.
The American Museum of Natural History in Central Park was pretty sweet, and as a bonus it was a good break from walking around outside.  I didn't really understand the ticket pricing at first though, considering they give you a "suggested" entrance fee but you don't technically have to pay anything.  We paid the full suggested fares, which I'm assuming most people do.  It was pretty smart of them though to actually have people at the entrance gate instead of just a machine or a box for donations, because I'll bet having an actual human shames people into paying more than they would with just a machine/donation box.  But yeah dinosaurs are sweet and embarrassingly while I didn't take many photos while in New York, most of them were at the museum.  Oops!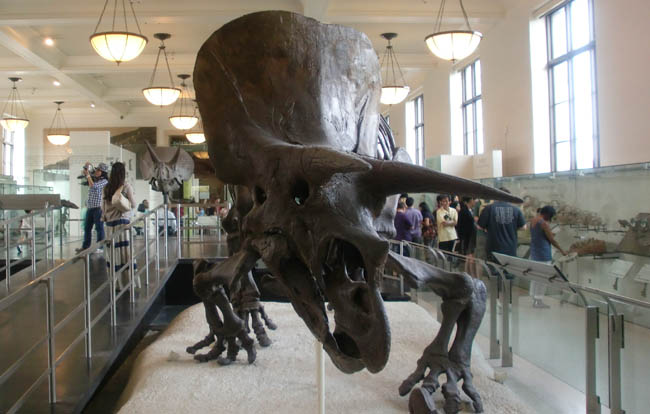 New York restaurants are, as expected from the biggest city in the county, amazing in both quality and diversity.  In addition to the Japanese places I went to, pretty much every meal in New York was great.  Chinatown was, of course, one of the highlights, so much that I went twice during the short trip.  I'm pretty sure I could eat dimsum every day.  There unfortunately weren't as many stores selling cheap electronic knockoffs, and junk like I was kind of looking for, but that was also probably because it was raining on the last day we were there and it wasn't worth walking in the rain to buy cheap stuff in Chinatown when we were already full of food too.  And yes, I did actually eat American food in addition to all the other multicultural stuff – stacked high sandwiches at a Jewish deli were probably the highlight from that category.
Overall I got to see a decent amount of the city, especially Manhattan, during the few days I was up there.  There was almost an incident with some shady scam-cab driver one night when my brother and I were coming back from meeting up with Dave down in Brooklyn, but it wasn't a big deal since we got out as soon as he said he was going to try and charge us $20 to go just a few blocks.  But aside from that, the trip was great and I definitely want to go back again sometime.  To eat, at least.