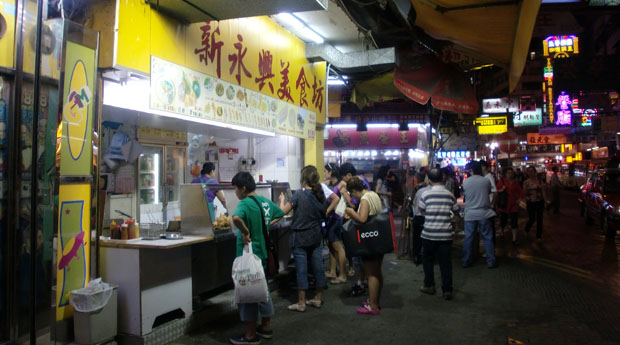 It's officially too late to write about this, but here goes anyway.  Back at the end of July I took a trip to Hong Kong since I figured it would be a lot easier and cheaper to do it from Japan than from the US at some point later on.  Got a pretty cheap flight from HIS and off I was to HK for about 5 days.  Derek and Christy were nice enough to take those days off from work to hang out and show me around.  Also got to meet up with Sunny and Chris on my second day in town.  This was like my fourth trip so by now I at least know how to get around and stuff, but there's always new stuff to see, explore, and eat.  Despite my fairly limited travel experience (compared to most "global travelers") I still think that Hong Kong has the best food on the planet overall.  It doesn't help that I was raised on Cantonese food and love eating in general.  But I mean come on – it doesn't get any better than dim sum, does it?
I arrived in HK on a Friday night.  Bought a prepaid SIM card for super cheap (100 HKD?  Only around 15 USD) and put it in this crappy unlocked phone I had.  Talk about easy!  Even my prepaid GoPhone in the US didn't seem this easy to set up.  I think it only took me about 3 minutes to buy the SIM chip, install it, and make my first call.  After that I snagged a taxi from the airport to Derek's place which wasn't too far away.  Cheap taxis in Asia are always a nice change from Japanese taxis, which might be cleaner but are also about 10 times as expensive.  The next day got dim sum for brunch and checked out a huge mall in the afternoon.  And yes the legends about Derek are true – he has a Spiderman Golden Master Pass to every gym in HK.  During our visit to the mall he ducked out for a 15 minute workout in the gym that was conveniently located inside the same building.  About an hour and a half later he was finished.  I totally thought Hiroaki was joking about Derek doing this, but it's totally true.  The man is a machine.
Anyway that night we had Chinese hotpot which is a lot different from Japanese nabe or shabushabu even though the basic premise is the same: take a bunch of pieces of food, put it in boiling soup until it's cooked, eat, repeat.  This was at a chain restaurant called Little Fat Sheep, and it was great.  It's all you can eat for 2 hours although they don't really care about the time limit since it's pretty impossible to eat hotpot for 2 hours straight.  Tons of meat, vegetables, and "other" keeps coming at you on little trolleys, and you have two soups on a burner in the center of your table to put it in.   One was like a standard mild soup, and the other one was a spicy one.  Spicy in China is not the same as spicy in Japan.  Here, the soup was literally filled with red chili peppers, cut in half so as to release their spiciness throughout the pot.  You couldn't put your ladle in the pot to scoop out your cooked meat without getting half a scoop of chili peppers every time.  Since I didn't want to die, I left a sizable pile of uneaten peppers on my plate.  I hope I wasn't the only one since I'm sure I looked like a wuss.
Next day hit up a Vietnamese place for lunch and got on a bus for Shenzhen, China.  Last time, I took the train up to cross the border, but the bus was also really cheap and fast.  You have to change buses when you get close to the border, but it's an easy process and in just about 2 hours total we had moved from a shopping center in Hong Kong, which sold global luxury brands like Gucci, Prada, LV, and Coach, to the giant mega shopping center in Shenzhen who sold copies of global luxury brands like Gucci, Prada, LV, and Coach.  That evening we went to this spa place, which at first sounded really sketch, but when I got there it was actually really nice and clean.  The place was called Water Cube, or 水立方 in Chinese.  No, not the Water Cube from the 2008 Beijing Olympics, but a spa in Shenzhen who has cleverly stolen the name.  At first when Derek and Christy were talking about going to a spa/massage place I had imagined like a super shady happy ending place.  But when we got there it was more like a family-oriented resort fused with the nicest high-end Japanese internet cafe you can imagine.  You get there and go to segregated locker rooms.  You can shower, use the hot tubs, jacuzzis, etc., then you head to the main area (which is co-ed) where everyone is wearing the same goofy Chinese pajamas.  You don't have to carry your wallet around with you, since any charges are just billed to your locker number which is on a plastic wristband you wear around.  Drinks and fruit are free, but there's a restaurant in the building where we got some dinner.  The food was good and cheap, since it's like that pretty much everywhere in China. You're free to roam around the place – there were tons of sections of super comfy leather easy chair recliners, pool tables, ping pong, fruit and juice bars, a video game corner, and even a room with a giant projector screen.  Each chair has its own TV and there are attendants running around everywhere whenever you need something, or are too lazy to go to the juice bar to get your own glass of watermelon juice (which is the nectar of the gods).  You're charged a really low entrance fee and can pretty much stay as long as you like.  There's TV, internet, and magazines and stuff to relax with, then of course there are massage packages and individual massages you can get.  Everything is pretty cheap and they just add it to your bill.  You can even sleep there over night if you want on the recliners: they turn the main lights off and everything.  The whole place is pretty much just a huge awesome internet cafe with better food and with massage options.  I'm not really a huge massage guy, but I did get a "foot scraping" where an old Chinese dude comes and uses a straight razor to shave dead skin off your feet.  It sounds horrible, but that was probably the weirdest and oddly awesome experiences of my trip.  I definitely recommend hitting up one of these types of places in Shenzhen if you get a chance – you probably  need to take someone who speaks Chinese with you though because otherwise you have to do a lot of sign language which sometimes works but is kind of a pain in the butt.  My favorite gesture is the "I dunno" head shrug with both hands.
Did some of the standard shopping in Shenzhen for bootleg movies and cheap clothes before heading back to Hong Kong on the train.  Stopped by Temple Street on my way back to do some shopping and eating at the dai pai dong street stalls, which are amazingly cheap and delicious.  The last day of my trip was pretty much just buying souvenirs for friends in Japan, and eating.  It was a great trip and I really hope I can make it again sometime.  And hey now I can get back to writing about stuff that didn't happen 2 months ago!