I went out to California in mid-October for my cousin Mei's wedding.  We flew into San Jose and traveled up to San Fransisco twice during the trip, but the majority of my time was spent in Palo Alto, on or around Stanford's campus where my now cousin-in-law goes to school.
Pretty much the entire trip was spent eating, which I guess is pretty much one of the only things a guest at a wedding needs to worry about.  That, and wearing something decent for family photos, of which we took approximately five thousand.  I can't imagine how many total photos the bride and groom were forced to take, but it was probably closer to a million.
I'm already slipping out of chronological order, which is not good for continuity or coherence.  So first up was a fairly early Thursday morning flight to LA, where we changed planes to go to San Jose.  I don't think there was much to note about the two flights other than me falling asleep almost immediately on both of them.  In LA since we had like a two hour layover we got California Pizza Kitchen for lunch, which kind of a mistake at LAX considering each 10-inch pizza costs about the same as a semester of community college.  From San Jose my uncle picked us up and drove us up to Palo Alto, where our hotel was.  After checking in and saying hey to some relatives, I jumped on the CalTrain, which happened to be right next to the hotel, and rode it up to San Fransisco since it was going to be my only free night to hang out with friends there.  Got to catch up with the VidSF crew, Kieran, Steve, and Ray, and checked out the shared office they use which was pretty awesome.  We got dinner and drinks in Japantown at a place called Mums which had shabu-shabu tabehodai and nomihodai for a pretty good price.  It was like being back in Japan already. We were pretty stuffed by the end of it.  Mueller is out in SF too and he showed up about halfway through at Mums, so it was great to see him too.  Stayed out until last train (haha just like Japan!) and managed to get back to the hotel in one piece around like 2AMish.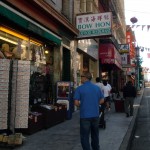 Next morning, woke up and loaded into a car with my parents, brothers, cousin, and uncle and drove up to… San Fransisco!  Yeah, if I would have planned it better I should have just spent the whole night there but oh well.  Anyway the main goal of this little excursion was to check out Chinatown, where my family used to come quite a bit for family trips.  Things are pretty much exactly the same as I remembered, which isn't saying a whole lot since they are just very general memories.  These include:
Lots of old dudes gambling in the one main pigeon park.
Lots of restaurants with awesome food.
Lots of stores selling junky crap, like coolie hats, snap 'n pops, chopsticks, and those postcards with naked ladies on them.
More old Chinese people.
Some funky smells on the street with origin unknown (for the better).
.
So yeah, good old SF Chinatown!  I actually really love this place and wish we would have had more time to stay there.  We ended up doing some browsing at random stores, buying food at at least two bakeries, and then later eating lunch with another cousin and her family.
After eating way too much food in Chinatown, it was time to pile back into the car around our boxes of mooncakes and get back to Palo Alto for the rehearsal dinner.  This was at a very authentic Italian restaurant.  Having an all-Hispanic staff is pretty authentic Italiano, right?  I am pretty sure there were at least 4 main dishes at this dinner.  Two of my uncles had joined us by this time, so pretty much we had my dad's entire side of the family in one room for the first time I can actually remember.  Too bad my Uncle Ron missed out on that $50 bottle of wine.  Shoot. Oh yeah –  I can't really remember now, but the men's bathroom at this restaurant was pretty sketch.  There were either breasts everywhere (paintings, pictures, sculptures, etc) or penises.  I only remember being uncomfortable.
That night, the night before the wedding, there was a traveling party of sorts with the groom's friends on Stanford campus.  I don't want to go too much into this whole exciting evening, but somehow Stanford being a private campus means it is a bizzaro land where the police don't act like you would expect and you can wheel an active keg around all you want.  Me and my brother were all ready to devise some kind of exit strategy at the library but we didn't even need to.  Pretty crazy.  After the non-incident with the police, my brothers and cousins decided it was time to head back anyway, so we walked from campus.  Little did we know that this would be like a 45-minute hike.  It's a straight shot, but Stanford's "driveway" has got to be several miles long.  We couldn't even see the light from where we started when we were like midway through.  To make up for all that walking we ended up driving to In N Out that night at like 2AM.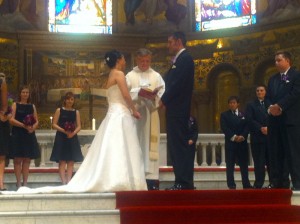 Day of the wedding, we were all up fairly early to get dressed, etc.  Headed back to Stanford, this time on a bus (thank god) and the wedding ceremony was held at the school's chapel.  It was a shortened version of a full Catholic ceremony, which made it much shorter.  There was a lot of stuff that was different from my image of a Catholic wedding (as seen on TV), like the circle of power, the chairs up on stage, etc.  And also, not being Catholic I was a little thrown off when the audience had lines and everyone seemed to know what they were supposed to reply back to the priest when he called out.  I have no idea.  Also at the end there was like a "give me your energy" hand motion salute thing that struck me as a little awkward, but all in all it was a really nice ceremony.  After the nice ceremony we all went outside where around 5000 photos were taken.
At the cocktail hour after the wedding, my Uncle Jeff ate approximately half the ocean's worth of shrimp by scoping out where the waiters come out of the kitchen.  Sneaky.  Later in the evening we had the full reception dinner which was really good.  Then more photos, my cousin dancing, and I think that was about it.  Oh yeah, you know "Bros Icing bros?"  They did that at the reception to the groom and the groom's father.  Normally I'd be against this kind of thing but it ended up being pretty funny.
We had brunch the next morning and from there headed back to St. Louis.  It was a pretty awesome weekend, and kind of counts as a mini family reunion as well I guess.
Congrats again to Mei and Josh!