Last month I headed to Vegas for a sort of mini family vacation. Well I guess it really was a family vacation, although it seems weird to say that considering my brothers and I are all grown now, and the primary reason for the trip was to gamble.  My brothers, parents, and I flew out to Vegas on a Sunday and met up with my uncle who drove in.  We were originally supposed to leave on Saturday, but due to "mystery electrical events" that supposedly occurred at some airport in Minnesota, every flight in the Midwest was held up or cancelled.  That excuse might sound fake and ridiculous, and I totally agree.  But that's what Delta was telling us as the reason why we couldn't be rerouted on another flight to Vegas, even though we were at the airport at like 8AM.  We were rebooked for the next morning, having to fly through Atlanta (going the opposite direction from St. Louis, mind you) in two separate groups.  Thanks Delta, I really appreciate your customer service not to mention you shortening my Vegas trip by an entire day.  We weren't even given free flight vouchers or anything, which I honestly kind of thought they had to do in this kind of situation.  Maybe the rules are different for those mystery events that they can't explain.  Meh.
So once we got to Vegas and waited in a taxi queue that literally wrapped around the airport building, we checked into our rooms at the Luxor and it was time to go big.  And by that I mean In N Out Burger.  Oh yeah, and gambling.
Overall I'd say while the Strip is great for the flashy experience, party atmosphere, and buildings shaped like monuments, I think I preferred gambling off the strip.  Minimum bets on the strip are just way too high and money goes too fast.  After getting the strip experience the first few nights, we went to a decent number of off the strip casinos like Silverton, Green Valley, "M," and the whole downtown area and it was a lot more relaxed and fun for me.  Also not to mention that you can bet less money and play games with better odds, like 2 deck Blackjack as opposed to the 8 deck electronic shuffler ones on the strip.  You're surrounded by a lot more locals and old people when you go off the strip, but for gambling (as opposed to partying, etc), it definitely seems like the way to go.
We didn't gamble the entire time we were there of course.  We also checked out this awesome "museum" called the Pinball Hall of Fame, which has tons of pinball machines set up to play.  They've got machines going way back to probably at least the 1950's, all the way up to machines that are still being manufactured today.  As a big pinball fan from when I was a kid, this place was better than Disneyland.  (I mean that literally, since even the tea cup ride makes me want to puke).  It also helps that I bought a pinball game for PS3 earlier this year, and have played it a lot.  Not as much as my dad, mind you, who plays it probably every day.  It has a lot of old Williams machines, very accurately recreated in HD.  After playing that for a few months it really makes you want to play a real pinball machine.  The Vegas Pinball Hall of Fame was the perfect way to take a break from gambling but still getting to do something different and fun.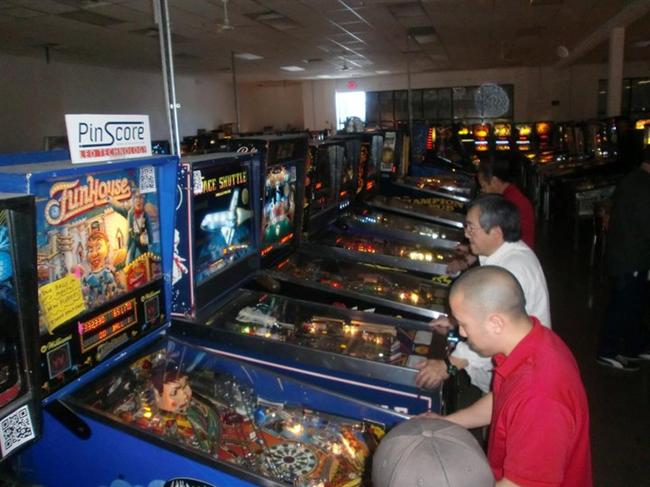 While we only had like 4 days in Vegas, it was a pretty solid trip and I didn't lose as much money as I had budgeted for, which is always a good thing.  I'll have to keep an eye out again for cheap airfare/hotels to head out there again.  Also my god we ate at so many buffets, ranging from decent to ridiculously amazing.
A few weeks after the Vegas trip, I drove out to Bloomington for a weekend to meet up with some friends.  It is definitely getting a little stranger every time I head back to good ol' B-town, primarily because I don't have many (any?) friends who actually live in Bloomington anymore and I am about 6 or 7 years older now than your typical undergrad student.  Not to say that Bloomington isn't still a great trip.  I had 4 of the best years of my life there and it's worth the drive to go visit old friends, see the old and new parts of campus, and eat some good food.  A certain SOB did end up bailing out on us at the very last minute, though, which was disappointing.
Instead of getting a hotel like last time, I tried out AirBnB for the first time – it's basically a website where individuals rent out rooms in their homes or even their entire home for prices usually less than what a hotel would run.  I had heard about it a while back since a friend from college now works there apparently, and this seemed like a good chance to try it out.  Surprisingly even a college town like Bloomington had a decent number of available places, and we were able to rent an entire house for the weekend.  It ended up being a great way to stay comfortably without paying as much as what a hotel would have been.  I'll have the try it out again sometime when I have the chance.  There are ratings, feedback, etc. on the site so you can get a decent idea of where you'll be staying, hopefully avoiding any creepers and such.  But my first experience on there was pretty good, even though I don't know if I'd really want to stay with someone I didn't know.  Getting the entire house for our group worked out really well though.