I've been using the same dry cleaners since I moved to Chiba city back in late 2007.  It's right around the corner from my apartment, and is cheap and fast which is nice.  The weird thing about dry cleaners in Japan is that they're everywhere.  There might be almost as many cleaners as there are convenience stores, and those are pretty much on every block.  I'm exaggerating, of course, but just barely.  On my way to the grocery store, for example, which is only a few blocks away, I pass by 3 conbinis.
But oh yeah, my dry cleaners story.  So my dry cleaners has a stamp card – every time you spend 500 yen, you get a stamp.  After 30 stamps, the card is full.  Nothing is written on it about what happens when you fill up a card, but I assumed you get some kind of prize, or maybe special membership status, etc.  I wasn't really sure, but since I had to get my suits and stuff cleaned anyway, it didn't really matter.  I was kind of looking forward to fulling up the card, though, in the back of my mind.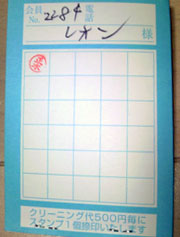 Then finally, today, after two and a half years of watching the stamp count slowly increase, I finished it.  I had 30 little "Masaki" stamps and I was ready to claim my prize.  Victory was mine.  Would I get like a special gold card to show my status as a power user of the dry cleaning shop?  Maybe a gift certificate to help offset my years of dry cleaning costs?  Sure if you do the math I'd only really spent about 15000 yen (USD$150) over 2.5 years, but the buildup was killing me.  The grumpy old dude at the cleaners took my dirty clothes today and stamped my card to the last blank space (what you see on the left here is the new card).
And what did I get for my waiting?  My grand prize for cleaning my suits and shirts enough to warrant a second stamp card?
Drumroll please…..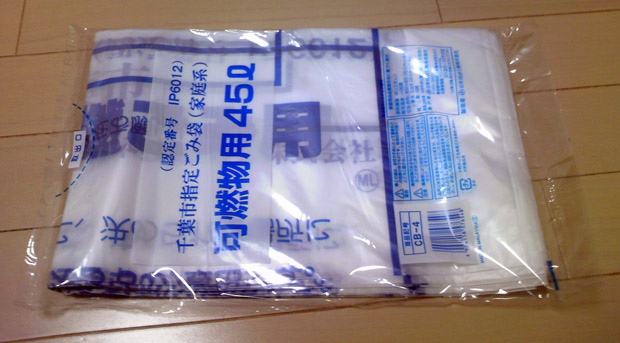 Umm yeaaaaah.  After loyally going to Masaki Dry Cleaners for 2.5 years, my prize for filling up the stamp card was a pack of &#@%ing trash bags.  A whole buck fifty's worth of plastic bags.  Thanks a lot grumpy old dude.