Phew. Wedding week is finally over. Last week I had 3 (pairs of) friends get married/have wedding parties, meaning that in a 7-day period I had a total of 2 receptions, 3 after parties, and 2 after-after parties to attend. It was a busy and expensive week. On top of that, Ari, Seth, and NR7000 were in town so there was the 2010 A-Team reunion to add to the Earth-shattering awesome festivities.
Monday was a holiday here in Japan, so Yuri and Sho-chan had their wedding party down in Kamakura. I hadn't been out there in probably a few years and the weather was really nice. The wedding reception was super close to the shrine where the ceremony was performed, and it was a huge formal reception afterwards. Blanchard and I sang the Kishidan wedding song which was embarrassing to say the least, especially considering that the families of the bride and groom were also there. At least we uhh… practiced a lot for that. Ha, ha. The pressure and shame were short lived though, since the third and final karaoke song performed at the reception was by the bride and groom, meaning by the time they finished everyone had hopefully forgotten about the two off-key gaijin who sang earlier.
On Wednesday Seth somehow overcame his broken leg, broken cell phone, and broken computer and arrived in Japan.  Oops!  Met up with him in Tsudanuma and I grabbed some food at Jonathan's while Seth sat around shocked that the restaurant was 99% chicks.  Then headed into the city to meet up with Bryan and Brian for some yakiniku tabehodai.  Thursday Nick came up via shinkansen, and we went to a creepy maid cafe in Akihabara.  They've got a stamp card system, with the top tier "Black Card" requiring over 2000 visits.  That is not a typo.  Two.  Thousand.  According to our maid, there are about 6 or 7 potential serial killers with multiple mental disorders who have this card.  Be very afraid.  After having enough of our souls depleted at the cafe, we headed up to Namja Town for some gyoza and ice cream, followed by Lockup 2999.  Lockup had some kind of campaign for March where you get half of your bill back as coupons.  It's actually a pretty decent incentive to come back.
Friday was the main event, Y's.  In the daytime we hit up Saize in Makuhari and Seth made our way to IES and Kanda.  Shin-san wasn't at IES, but we talked to Kudo-san and got to see some of the new kids.  Vest!  Crashed Hosoi-sensei's office and caught up on old times with her.  I'm pretty sure she remember every single detail about everything ever, since she even remember Seth's girlfriend at the time, IUSTV, and that the Musashino line was late every day.  We met up with her again later before Y's with Bryan, and Mikey was super late for that.  Couldn't have been a better entrance.  Hosoi-sensei knows how awesome the A-Team is.  Y's, even without the usual counter, was epic.  Ari showed up direct from Narita and it was just like old times.  We've been doing this for almost 6 years!  Thanks to all the fans and supporters who came to celebrate with the A-Team at the 2010 Reunion.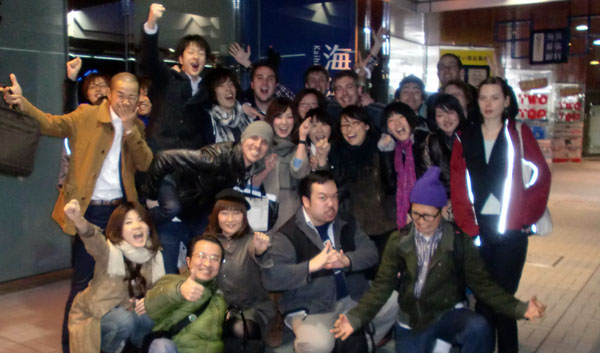 Bryan and Saori's wedding reception and after parties were probably the highlights of wedding week, since everyone was there and also because I've known Bryan the longest.  It was pretty awesome, especially when the picture slideshow had so many A-Team shots.  I gave a speech which ended up being a little shorter than I had planned, but I think it was fine.  We made some new friends with (well actually just probably creeped out) Saori's friends, ate some good food, and celebrated something that really made me feel old.  Also at the second party and karaoke there was a kid who smelled like wet garbage.
After not going to bed until about 8:30AM on Sunday, I had to get up for Isoroku's wedding after party that night.  It was also pretty sweet, in a fancy lounge in Roppongi near the Ritz Carlton.  I was worried that I wouldn't know anyone there, but luckily there were some Kanda people I'd met years ago and from there I was able to mingle and such.  Isoroku also gave out some pretty classy party gifts.  I have no idea what I'm going to do with Ultraman Tenga.