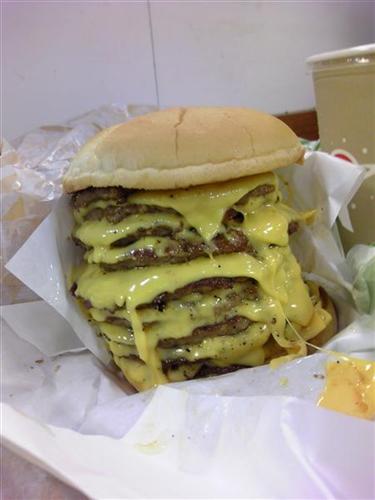 Look at this beast.  This is Japanese fast food chain Lotteria's special limited time only destroyer of arteries, the aptly-named Tower Cheeseburger.  Finally got around to conquering it over the weekend.  I don't know if I should be proud or ashamed of that.  Probably a little of both.
I first heard about this behemoth last month from Gigazine, who compared it to KFC USA's Double Down sandwich in terms of terribleforyouness.  Unfortunately (fortunately?) until the beginning of June the Tower Cheeseburger wasn't available at the Lotteria near my house and I never got around to trying it anywhere else in Tokyo.  But yeah, Blanchard and I hit up Lotteria yesterday for lunch and each got the Tower Cheeseburger plus fries and a drink.  It was a disgusting and delicious experience.
Obviously, the thing is massive.  It's kind of like eating an entire meatloaf only greasier and cheesier.  It comes wrapped in paper just like a normal cheeseburger, but it's pretty tough to pick up and actually fit into your mouth like a normal burger.  Brian somehow managed to do so in record time, but I had to get a fork to finish the thing off bit by bit.  Surprisingly, the taste is pretty good overall once you get over the fact that you're destroying yourself.  The cheese was really good, and the meat patties seemed like pretty good quality , although with that much cheese and meat the flimsy bun and skimpy condiments (only on the buns) make it a little boring to eat.
I hadn't been to a Lotteria for a long time since their normal burgers are pretty small and their prices seem more expensive than McDonald's.  But after this experience I'm likely to hit up Lotteria again in the next few months before I leave, although definitely not for a 10×10 ever again.